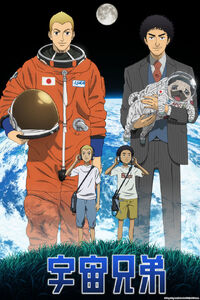 Space Brothers Anime
(Uchū Kyōdai 宇宙兄弟) is an adaptation of the manga series created by Chūya Koyama.
The television series is produced by A-1 Pictures and began airing in Japan from April 1, 2012. It is also being simulcast by Crunchyroll.[1] It has also been licensed by Sentai Filmworks in North America.[2]
The series follows the story of two brothers, Nanba Mutta and Nanba Hibito who witnessed a UFO on a fateful night and decided to become astronauts. While Hibito fulfilled his dreams and became an astronaut who is set to leave on a mission to the moon, Mutta who recently lost his job enters the JAXA astronaut selection program and takes a step closer towards joining his brother.
The show features multiple opening and ending themes, more information regarding the themes can be found here.
Space Brothers Episode and Specials Guide
Episode Guide Color Code
Normal Episode aired in continuity.
Specials or Movies